Why study with us?
Teachers at La Lengua are specialists in teaching Spanish to foreigners. Each of our teachers has many years of experience. We aim for the highest standards of service and ensure these are maintained with our program of ongoing, in-house teacher training. The Ecuadorian Ministry of Education and Culture, as well as several international Universities, have also recognized our programs!
Each student receives private instruction and has the opportunity to change teachers every week to get to know different accents. Classes are available at various levels. To begin with, a student's knowledge of grammar and the spoken language is evaluated to determine which class they belong to. Our schedule is extremely flexible, you can start a course at any time.
Class time is devoted to vocabulary, grammar, pronunciation, exercises and conversation. The topic of discussions can be chosen by the students, subjects such as politics and economics as well as history of the country. Each lesson plan comes with an accompanying workbook with reading and writing excercises, grammar explanations and vocabulary lists. At La Lengua we believe that practice outside the classroom is as important as studying at the school. So, we also integrate games and real life practice into lessons, including day trips to city markets to practice shopping vocabulary and museum visits to learn first hand about the culture of Ecuador and its people. The atmosphere at the school is relaxed and friendly.
Homestay
You can stay with an Ecuadorian family while studying at La Lengua. We work with experienced host families, situated within walking distance or a short bus ride from the school.
Airport pick-up Service
Upon request we provide to our students a transfer from Quito airport to their host family or their hotel. The airport is situated 40 kilometers outside of the city. Please let us know your date, time and flight number of your arrival and we will be there to meet you.
Visas
Most travelers do not require an entry visa to visit Ecuador as a tourist for up to three months. If you wish to study for a longer period, the School can assist you to obtain a student visa.
Should you have any questions about visa, contracts, constitution of companies or any other legal issues, please do not hesitate to contact us. The school has a legal adviser and would be pleased to answer your questions.
Diplomas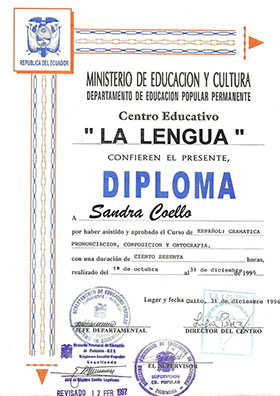 Official diplomas from the Ministry of Education are issued by the school to students completing 120 or more lessons. There are three levels of diplomas depending on the student's knowledge: basic, intermediate and advanced.
Our Programs
Level I: Spanish for beginners
Level II: Intermediate Spanish
Level III: Advanced studies in Spanish
Conversational Spanish for Travelers
Program for medical students and professionals
Other Special Courses La Lengua offers
Latin American History
Latin American Economics and Politics
Latin American Literature
Latin American Arts and Culture
Business Writing
Latin American Dancing Lessons
Schedule
Daily from 8.30 – 17.30 with a break of 20 minutes in the morning and in the afternoon, one hour is 55 minutes. Students can decide on the number of lessons they will take. Lessons on Saturdays and Sundays are available upon request.
Also, we are a member of AECEE, Ecuadorian Association of Spanish schools.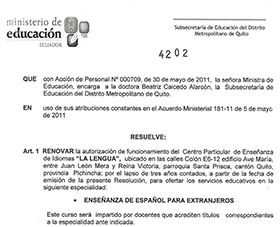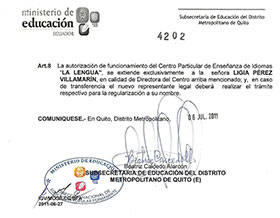 Ecuador
Ecuador is a small country in South America with four different regions. The Coast, the Andes, the Amazon rainforest and the famous Galápagos Islands offer amazing landscapes. You may start from zero meter and go up to 6310 meters to the peak of Chimborazo Volcano; learn about our culture and make new friends from all over the world. All this and much more you can find in Ecuador!
Ecuador is the best destination to study Spanish and to enjoy the beauty of the country.
There is a lot to do and to see for nature lovers this is just fantastic.
Ecuador offers beautiful beaches, mountains, active volcanoes, hiking, climbing, the Amazon rainforest, adventure, rafting, canoeing, cycling and other activities. A trip to the magical Galápagos Islands is an unforgettable experience.
Spanish Schools and Tours La Lengua provides the opportunity to learn Spanish while getting to know interesting and picturesque places.