Organic Farm El Motilón
Our Organic Farm El Motilón is located in the Parroquia of Atahualpa, one and a half hour northeast from Quito, on the well-known Ruta Escondía.
With permaculture techniques (pillar of our sustainable ideology), organic food is produced from both of vegetable and animal origin. The animals are always outside and its natural condition is respected. Our top product is the field eggs.
The farm has practically all domestic animals. We don't work alone; we have, as strategic allies, some families from the community with its women at command with whom we synchronize production under the same sustainable ideology for its later commercialization.
Volunteer Program
The objective of this program is that tourists participate in daily activities together with the families of the community, which are part of our allies, in their daily tasks as well as in the own tasks of El Motilón and its projects that we describe below:
Conservation
Sustainable agriculture
Permaculture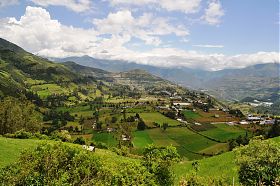 Accomodation
Volunteers will stay at a mixed construction cabin located at the highest point of the farm, a viewpoint from where we observe the whole town, the fields of Mojanda Chica and the famous farm of Piganta. The cabin harmonizes with the surroundings and does not contradict the principles of respect for nature as in all cases it is part of the permaculture techniques. We use solar energy for lighting; it supplies to charge an electronic device (cellphone or tablet).
The following items are available, a dry toilet and a rocket type kitchen at the outside, water captured from the fog, fire detection system and fire extinguisher. This accommodation is quite safe, warm and comfortable where four people can be lodged comfortably. The second option of accommodation is in the main house of the farm, it has drinking water and electricity, shower with hot water, wood stove and microwave.
Optional
At least two days a week volunteers could help in:
To give English classes to young people of the college with deficiency or interest in improving the language, for which a classroom will be provided at the institution prior coordination with the rector.
Support at the Geriatric where there is a considerable number of elderly people and many of them have slight mental problems. The best time for this effect will be previously considered.
Aditional
The volunteer or volunteers will enjoy a walk every week to one of the attractions of the place, prior consensus these can be a visit to waterfalls, excursion to the lakes of Mojanda, ascent to the village of Aloguincho, bike ride to the village of San Jose de Minas and horseback riding.
On Saturdays we regularly visit the animal market in Otavalo where volunteers will participate actively in the commercialisation of them.
Visit to the main nursery of the area in San Jose de Minas.
We speak English and German