Mindo Spanish classes and Tours
Mindo is located 3.5 hours northwest of Quito at 1250 Mts. above sea level.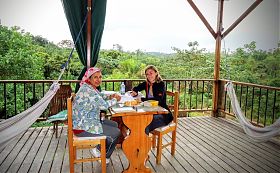 Get into the heart of the cloud forest, one of the world's richest ecosystems and find the primary and secondary forests full of flora, fauna, rivers and waterfalls. Enjoy a humid and warm climate while staying in a place surrounded by nature anywhere. Find out a great variety of hummingbirds, butterflies and orchids in Mindo.
5 days / 4 nights program
Itinerary
Day 1
08:30 departure from Quito
09:30 visit to the Inti Ñan Museum (the Middle of the World)
10:30 visit the Pululahua Volcano viewpoint (Pululahua Geobotanical Reserve)
14:00 arrival to Pedro Vicente Maldonado town
15:00 check-in at Casa de Campo
15:30 Spanish classes (3 hours)
19:00 dinner at Casa de Campo
Day 2
08:00 breakfast
09:00 Spanish classes (3 hours)
12:30 lunch at Casa de Campo
13:30 excursion to Cascada Azul (path trekking and optional swimming at the cascade natural pool)
15:00 return to Casa de Campo, free time: use of facilities (pools, sportive fields)
19:00 dinner at Casa de Campo (optional night walk)
Day 3
08:00 breakfast
09:00 trip to Mindo
10:00 visit the mariposario (butterflies), orquideario (orchids), birdwatching
13:00 lunch at Mindo
14:00 return to Pedro Vicente Maldonado – Casa de Campo
15:00 Spanish classes (3 hours)
19:00 dinner at Casa de Campo
Day 4
08:00 breakfast
09:00 Spanish classes (3 hours)
12:30 lunch at Casa de Campo
13:30 excursion to Cascadas Verdes (trekking and optional swimming at the cascade natural pool)
17:00 socialization BBQ, free time
Day 5
08:00 breakfast
09:00 Spanish classes (3 hours)
12:30 check-out
13:00 lunch at Pedro Vicente Maldonado town
END glyph:OF glyph:THE glyph:PROGRAM
Price USD 
1 Student: $450
2 Student: $390
Price includes
- Private transportation
- Transfers for the excursions
- Accommodation in private room with shared bathroom at Casa de Campo
- Meals: 4 breakfast, 3 lunch, 4 dinner
- Spanish teacher
- Spanish classes (15 hours)
- Tickets for Inti Ñan museum, mariposario, orquideario and birdwatching
- Excursions
- Use of facilities (pools, sportive fields)
- Drinking water
Does not include
- Alcoholic drinks
- Special dishes
- Lunch for day 1 and day 5 in Pedro Vicente Maldonado
- Personal expenses