About the Galápagos Islands
Surely you have asked yourself which would be the best way to visit the Galápagos Islands. It seems to be easy to just take a plane to the Galápagos Islands and arrange a tour independently in Puerto Ayora.
However this way you have to count with hotel expenses. This might be all right if you have plenty of time as cruises could be fully booked, therefore, it is advisable to make reservations a couple of months in advance.
For a Galápagos trip you have to consider the following:
To get a flight departing from Guayaquil or from Quito to the Galápagos Islands (Baltra or San Cristóbal).
All foreign visitors must pay the National Park tax of USD 100.— (cash only) upon arrival at the airport.
About the excursions, there are cruises with its itinerary or combined tours available.
You will be delighted by this unique natural paradise. You will explore the bizarre landscapes of the Galápagos Islands and examine its exotic plant life. You will also cross paths with such animals as the giant Galápagos Turtle, Galápagos Albatros, Galápagos Penquin, the Blue-footed Booby, and the Galápagos Sea Iguana.
A combined tour is a nice way to enjoy the Galapagos Islands if you are not keen to stay on a boat all the timeor if you are not a very good sailor. This way you stay at a hotel and get every day excursions from there.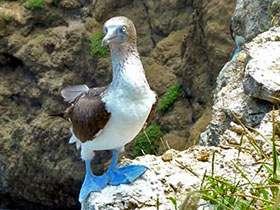 Tours aboard on yachts is a great option to see the marvels of the Galápagos Islands, as you will cruise to the island during the night in order to get on land for the activities the next day.
The duration of a tour depends on your budget; nevertheless, you have the choice from four to eight days. If you wish to visit more islands, eight days is the best option. Every island has its own eco-system, scenery, different flora and fauna that make each island a unique place.
Type of the boats and excursions
We will provide you with a seleccion of proven yates from which you can choose. These yachts have provided our clients with excellent service time and time again. Our current selection of yachts is as follows: Flamingo, Golondrina, Fragata, Archipell, Tip Top IV…
There are different categories available from tourist to the luxury yachts. The economic boats are usually smaller and the more expensive ones offer a better quality of service, more space and the boats are more powerful. Also there are better guides and their excursions take place at different islands.
Economic and Tourist Class
These types of boats are offered for those who have a limited budget. Anyway the Galápagos Islands are the same no matter on which category of the boat you travel.
Tourist Superior Class
These yachts are more comfortable with nice double cabins, private bathroom and showers with hot water.
First Class
To choose a boat of this category will assure you to have comfort, a personalized service, the best naturalist guides of the islands and a great itinerary.
Luxury Class
These are large cruise ships and have a capacity of 100 passengers. To choose a luxury tour on a boat of this category will guarantee a trip at your expectation. You will have maximum comfort, a personalized service, the very best naturalist guides of the islands and a great itinerary.
Ask for our minute offers! For more information email us to office@la-lengua.com or use the contact form in the right column.