About Ecuador
Named after the equatorial line which lies across it, Ecuador that offers an astounding variety of landscapes, fauna, flora, wildlife and people.
Located between Peru, Columbia and the Pacific Ocean. Ecuador has three geographically distinct regions (The Coast, The Andes Sierra and the Amazon rainforest jungle) that allow for such rich diversity.
Although Ecuador is the smallest country in South America, it contains more bird species than the whole continent of Europe. If you are looking for to see wildlife, you won't want to miss the unique Galápagos Islands, Amazon jungle and Sierra cloud forests.
Ecuador is also a great country for mountain and volcano climbing. With some of the world's largest volcanoes, Ecuador's peaks offer amazing panoramic views, smoking craters, crater lakes, glaciers, lava fields and paramo highland vegetation.
With signs of human life in Ecuador dating as far back as 9000 B. C., the people of Ecuador equally offer both, a rich history and significant regional differences in customs and beliefs. In the country's earliest days, Ecuador's tribes lived peacefully without much warfare. This all changed in the 15th Century when the Incans invaded the land, conquered its people and reigned until 1535 when they were in turn overthrown by the Spanish conquistador, Francisco Pizarro.
Thereafter, the Colonial Era proceeded peacefully with no significant uprising from the Ecuadorian Indians, who since the Inca reign were subordinated as lower class citizens. Finally, on May 24, 1822, independence was obtained with the help of Venezuelan Simón Bolívar. Today, while Ecuador is still structured as a class-based society, several indigenous groups and their traditions continue to survive across Ecuador.
On March 14th, 2000, the then president Gustavo Noboa switched Ecuador's currency from Sucre to US Dollar.
Travel activities in Ecuador
Relax in volcano-heated thermal baths in Baños or Papallacta
Visit colourful indigenous markets such as Otavalo, Saquisilí or Zumbahua to buy textiles, tasty food, and unique handicrafts
Enjoy discovering regional and local street festivals, which take place throughout the year
Climb Ecuador's highest volcanos (Chimborazo, Cotopaxi, Pichincha)
Visit the lush wildlife and lunar landscapes of the Galápagos Islands
Take your picture on the equator line (Latitude 0)
Trek through the cloud forests to do some birdwatching
Canoe across the Amazon River and visit a local community to learn about their traditional lifestyle, fish piranhas and observe caymans, watch a traditional shamanic ceremony, swing off vines and observe the wildlife (howler monkeys, anacondas, pink dolphins)
Take a breathtaking ride on the train from Alausí to the famous Devil's Nose
Discover the panoramic views through nature hikes along Volcano Craters and Lakes (Crater Quilotoa or Cuicocha, Lagoon Mojanda)
Enjoy a relaxing time at the beach or go whale watching
Visit preserved Pre-Incan and Incan Ruins (Ingapirca , Cochasquí)
Bike along the Avenue of waterfalls in Baños
Discover the colonial charm of Quito and Cuenca
Tours in Ecuador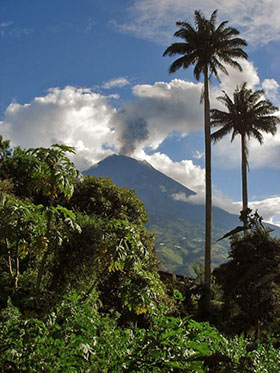 We assist you to plan your vacations. Visit Ecuador and enjoy a fascinating environment, with a lot of cultural activities, variety of climates, scenery and regions.
Experiment yourself everything that Ecuador has to offer, from zero meters above sea level with lovely beaches to ascend the National Park Cotopaxi, Quilotoa, Pululahua, Ilinizas or climb volcanoes up to 6310 meters, such as Chimborazo, go down to the magic Amazon jungle and discover its mysteries.
We offer private tours and adventure where you will have the opportunity to appreciate the wonderful bio-diversity, unique species of flora and fauna, elegant colonial cities, like Quito, a Unesco World Heritage site, as well as Cuenca.
Visit and do your shopping at indigenous markets, step on Equator latitude 0° at Mitad del Mundo, place each foot on the southern and northern hemisphere, taste Ecuador's delicious meals and its endless variety of exotic fruits. We invite you to come to this beautiful country where you will be welcomed by nice and friendly people.
This is Ecuador, land of the four worlds: beaches on the Pacific Ocean, Andes with its lovely mountains, the magic Amazon rainforest and the Galápagos Islands, a World Heritage site.